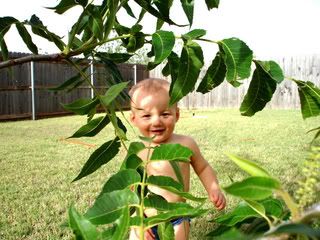 It's still hard to believe how big he is! He loves this little tree. He learned today that the leaves actually come off if you tug on them a tad. And he thought it was absolutely hilarious that we could see each other through the gaps in the branches.
He also loooves peeping through the cracks and holes of the backyard fence. There's a nice big playground back there, and most times filled with laughing, screaming children that he likes to squeal at. =)
*~*~*~*
Today was a pretty lazy day. Had some housework that I should have done, but lying around and playing with my boogerbutt was way more fun. He's only this age once, so those clothes up on the bedroom floor that need put away can wait another day. I managed to keep the kitchen clean though. Those toilets are definitely waiting until tomorrow or possibly the next day. Haha!